Specialist Mortgage Advisers
Thousands of Mortgage Products Available
See if we can help you find the right deal.
Get in touch for a free, no-obligation chat with an adviser about how we might be able to help.
Tell us about yourself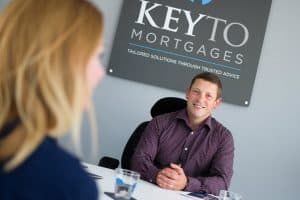 I've been in financial services for a little over 20 years now. Quite a varied career, but always around mortgages, essentially. I started my career working for a major high street lender, Abbey National (who are now Santander). Since then, I've worked for a couple of other major high street lenders. The vast majority of my time has been spent as a as a mortgage broker dealing with lenders from the whole of the market.
Tell us about your new offices
We are just outside Bournemouth Town Centre in an area called Moordown, which is a popular local shopping area. We've been very busy during lockdown and just opened the new office – very excited to finally open the doors and knuckle down to some serious business.
What does a Mortgage Broker do?
The main difference between using a mortgage broker and going direct to a lender is choice! So if you speak with your own bank, no matter who it is, they're only ever going to be able to offer you information and advice on their own products. They're not going to tell you what their competitors are doing.
Whereas taking the advice from a mortgage broker, you're accessing the whole of the market. There are a lot of lenders out there, hundreds of lenders. Denying yourself access to that is just denying yourself access to saving money and ensuring that you have the very best mortgage deal out there that is available.
Won't I just be able to get a mortgage through my own bank?
Not necessarily, just because you bank with someone , it does not mean they will automatically approve your mortgage. Every lender has their own set of rules, their own lending policy and their own lending criteria. And you may or you may not meet that criteria just because you don't meet your own bank's criteria doesn't necessarily mean to say that every bank is going to say no.
A lot of the lenders that I deal with will only deal with mortgage brokers directly. Quite often you're not even aware of them because they don't market directly to the public. They only offer their product range through mortgage brokers. It's not a case of one size fits all. Just because one lender says no it certainly doesn't mean to say that every lender will.
What is an SVR Rate?
So SVR stands for Standard Variable Rate. Every lender has their own standard variable rate of interest and it's set and controlled by each individual lender. Typically speaking, when you take a new mortgage with any mortgage lender, you are likely to enter into an initial benefit period. So let's say, for example, you took a two or five year fixed rate. You obtain a preferential rate for that initial period of two or five years. At the end of that time, you would revert automatically to the lenders standard variable rate. This is usually considerably higher than the benefit rate that you've just come off of. When you revert to that standard variable rate, you're going to expect your mortgage payments to increase quite considerably. The key thing is that you're not tied to the lender.
There's no need for anyone to be sat on a standard variable rate, paying a higher interest rate than they need. They can renegotiate with their current lender or they can explore the whole of the market to have a look at what other rates and products are available to save them money immediately and over the longer term.
Is remortgaging less stressful than buying for the first time?
Yes, the process is much more simplified. For a start, you're not going through that process and that stress of buying a property, having your offer accepted through an estate agent and going through the whole legal process of taking ownership of the property. Whilst there is still a legal process to go through when you remortgage from one lender to the other. It's much more simplified and more often than not these days. Lenders will provide that as a free service anyway as part of the mortgage package.
It's a lot quicker. It's a lot more straightforward and quite often with remortgages you're attracting the lowest interest rates as well because customers who are remortgaging represent a lower risk to a lender. You tend to attract the lowest interest rates out of all the products available when you're remortgaging.
Is the process the same for people who are self-employed or contractors? How do you help them?
I get this all the time with self-employed people or limited company directors where they own a shareholding of the business? I'm quite often told I can't get a mortgage because I'm self-employed. It's just really not the case. You may need to produce a little bit more documentation and the way that the lender assesses how much money you can borrow differs, and the documentation which they assess is different.
So, for example, as a purely employed person, a lender is going to ask for your latest pay slips just to assess affordability.Whereas with the self-employed person, they're going to ask for tax return information or business accounts over the last couple of years.
They're just looking at income over a longer period of time to establish affordability for that mortgage borrowing. It's slightly more complicated in what the applicant needs to provide. But the lending criteria essentially is the same.
Do you work with property investors and Buy to Let?
A lot of what I do is with property investors, and when I say property investors, we automatically assume that this is somebody that owns 20+ properties. Many of my clients have maybe three or four properties. They consider them to be their pension fund.
We've got a big university here, so there's a lot of students. So buy to lets tend to be quite popular aimed at the student market. Also think it's no surprise people have struggled to get on the housing market over the last probably decade at least. So the rental market is very, very strong in Bournemouth. What with property prices remaining high and people struggling to get on the property ladder.
Are there a lot of HMO's Around being close to a university?
HMO stands for a house of multiple occupation and a specific license needs to be granted by the local authority in order for a house to be used as multiple occupancy. Those licenses are not being granted anymore in Bournemouth because I think there's been quite a lot of licenses that have been granted in the past. There's also a lot of student accommodation being built in Bournemouth at the moment.
So I think clearly from a local authority point of view, they want to steer students to designated student accommodation as opposed to converting residential areas into sort of student areas.
So why Bournemouth?
I moved to Bournemouth when I was about 18 years old and I was from a town called Telford in Shropshire, which is pretty much as landlocked as you can get in the UK.
Bournemouth's appeal, you know, as an 18 year old was the beaches and nightlife and the social aspect. Now it's very different.
I'm married with a young family. I guess that the reasons I like Bournemouth so much now are very different.
We've got fantastic restaurants, it's a nice, safe place to raise children. We've got great schools and we're blessed with fantastic beaches and the New Forest. We're very lucky here in Bournemouth to have what we have on our doorstep.
Where do you recommend eating?
There's a restaurant/bar situated in Bournemouth Town Centre and it's called Urban Garden. I like it for a number of reasons. It's a local business. You know, they've done really well. Locally sourced food tastes amazing, just a really relaxed atmosphere. And there's just somewhere to sit and eat and have a few drinks out on the terrace afterwards, maybe take a wander down through the gardens and along the beach front.
If you like more upmarket food, we've got a James Martin restaurant which is attached to a hotel not far outside of Bournemouth and Rick Stein has a restaurant over at Sandbanks, which is very, very popular. There's a lot of choice.
Buy Bodybuilding Steroids For Pharma — SEO BRAIN testosterone cypionate for sale bodybuilding steroids – youmeroot.
To summarise
Even if you've been declined before it's not the end of the road. A mortgage broker can help you find the right product for you. Get in touch if you are on a SVR, if anybody is on their lender's standard variable rate, then pick up the phone and speak to a broker. Without a doubt, you are probably paying more money that you need to.